Ye Olde Pharmacy & Wellness Center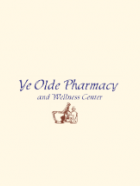 Visit:
Established in 1998, our mission is to provide the residents of Ozaukee County and beyond, with the highest quality products at the best price, with the best service possible.
We are a traditional, community pharmacy, filling all prescriptions and accepting most prescription insurance, including Medicare. Also, we are a compounding pharmacy that fills prescriptions for people and pets. Unlike other compounding pharmacies, we will check your insurance to see if compounded medication is covered and, if so, we will bill your insurance. This process eliminates the need for you to pay full price and to hassle with insurance claim forms.
Special orders are never a problem with many items available next day. Ye Olde Pharmacy & Wellness Center is a Medicare accredited facility. After a year long process, Ye Olde Pharmacy earned Medicare Accreditation by meeting Medicare's strict standards of operation. Accreditation gives our patrons confidence their Medicare claims will be handled promptly and in a professional manner.
Ye Olde Pharmacy & Wellness Center is a professional pharmacy. We do not sell alcohol or tobacco products. We do not sell lawn chairs, motor oil, garden hose or other non-pharmacy distractions. We do specialize in Adult Immunizations such as flu, pneumonia and shingles shots, daily cholesterol testing, daily blood pressure check and daily blood sugar testing and A l c testing. Ye OIde Pharmacy & Wellness Center is a C.L.I.A. waived laboratory authorized to perform the testing listed above. A hormone consultation program is available for Bio-identical (Natural) Hormone Replacement Therapy as well as Nutritional Consultations and Medication Reviews.
Phone Number: 262-375-0010
Address: N54 W6135 Mill Street, Suite 300, Cedarburg, WI 53012
Map: click here
Last Updated:
August 7, 2013