Wilshire Le Doux Medical Pharmacy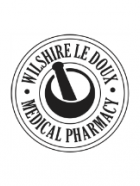 Visit:
Wilshire Le Doux Medical Pharmacy is an independently owned and operated Pharmacy and is a part of Good Neighbor Pharmacy, a national chain of independent pharmacies.
We are a full-service pharmacy offering a wide range of prescriptions, over-the-counter and specialty hard to find items. We offer immunizations including: Flu vaccine, Shingles Vaccine, Pertusis vaccines, Tetanus Vaccine and more. Our staff is friendly and knowledgeable and will go the extra mile for our clients. We are experts at using Manufacturer's Coupons to save eligible patients money on their out of pocket co-pays. We offer complimentary validated parking for our patrons and FREE delivery of medications.
Phone Number: 310-657-4090
Address: 8536 Wilshire Boulevard #101, Beverly Hills, CA 90211
Map: click here
Last Updated:
May 15, 2013