Williamson Hughes Pharmacy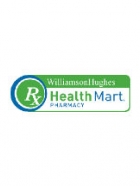 Visit:
For over 100 years Williamson Hughes Pharmacy has been providing Harrisonburg residents with unbeatable customer service at competitive prices. Expanded nutritional supplement selection we offer a wide variety of services unavailable in most drugstores. Williamson Hughes proudly: accepts most insurance plans, offers delivery to both home and work locations, drive-thru window, alternative hormones, Medpac services, health screenings, and home health equipment.
Conveniently located adjacent to the JMU campus and on the bus route, Williamson Hughes HealthMart Pharmacy is here to serve your prescription and healthcare needs. As part of the HealthMart network of independent pharmacies we offer pricing competitive with national chain drugstores along with personalized service. A full specialty compounding pharmacy, Williamson Hughes takes pride in meeting the special needs of our patients.
Phone Number: 540-434-2372
Address: 1380 Little Sorrell Drive, Harrisonburg, VA 22801
Map: click here
Last Updated:
October 10, 2013