Wil-Sav Drugs of Sweetwater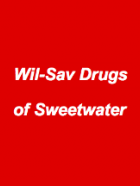 Visit:
Wil-Sav Drugs of Sweetwater opened in 1976 to help provide a unique service to its customers. In July of 1987, Don LeCoultre purchased Wil-Sav Drugs and is the current owner.
Wil-Sav Drugs does both veterinary and human compounding including bio-identical hormone replacement therapy. Compounding is not something that can be found at every pharmacy (see more information under our services).
In addition, the pharmacy is certified to provide immunizations including flu, shingles and pneumonia vaccines. There is a wide variety of over-the-counter product available (vitamins, healthy and beauty, greeting cards, etc).
Don, current owner of Wil-Sav Drugs, graduated from the University of Tennessee College of Pharmacy and has been in retail pharmacy since 1974. He currently lives in Knoxville, TN. Lisa McHan is also a pharmacist. She is a graduate of Samford University and has been at Wil-Sav Drugs since 1996.
Phone Number: 423-337-9381
Address: 787 New Highway 68, Sweetwater, TN 37874
Map: click here
Last Updated:
August 26, 2013