Western Maine Pharmacy, Inc.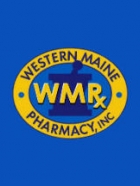 Visit:
Western Maine Pharmacy opened November of 2011. It has been the dream of Pharmacist, Audrey Parks, since she began her journey towards becoming a pharmacist. She is proud to serve the people of Kingfield and the surrounding Western Maine region.
We carry a wide array of products for you medical needs. If you don't see something you need let us know. We can special order most products for the next business day.
Phone Number: 207-265-8020
Address: 238 Main Street, Kingfield, ME 04947
Map: click here
Last Updated:
August 1, 2013