Webb's Family Pharmacy - Downtown Rochester, IN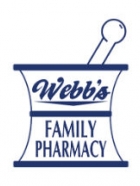 Visit:
Webb's Family Pharmacy is an independently owned community pharmacy. Our stores are located in Rochester and Akron, Indiana.
A retail pharmacy has occupied each location for over 100 years. "The Professional Pharmacy with the Hometown touch..." is more than a catchy phrase. It defines our mission of serving our patients. We use a friendly, down-home approach to deliver quality pharmacy services. Our caring staff is constantly striving to expand the number of services we offer our patients. With stores in Rochester and Akron Indiana, we serve our patients in Fulton, Cass, Miami, Marshall, Pulaski, and Kosciusko counties in Indiana by providing the highest quality medical equipment, supplies, and pharmacy services. We respect the rights of our clients/patients, and are dedicated to providing responsive, timely customer service. We ensure that members of our team receive ongoing continuing education so that they are knowledgeable about the latest home health care technology and are able to serve our clients/patients effectively.
Phone Number: 574-224-9322
Address: 724 Main Street, Rochester, IN 46975
Map: click here
Last Updated:
October 10, 2013