Village Pharmacy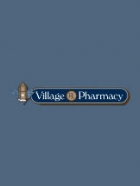 Visit:
Village Pharmacy is committed to taking the hassle out of visiting the pharmacy. We take pride in our offering of unique products and services that larger chain stores do not offer. Enjoy Curbside Parking and our Prompt prescription Service. Waiting for hours is not necessary at Village Pharmacy. Comfortable seating is available during your brief wait.
Forgot to reorder your medication? Use our Website and connect to our RefillRX secure site to reorder, and tell us any special information, such as when you'd like your prescription to be ready. Use your computer from home or work, anytime of day— or night!
Moms with young children call us from your cell, we'll bring your medication to the car, curbside! Ask for details. Delivery is available! We hope you find everything you're looking for with us. Its time for a change... To Village Pharmacy!
Phone Number: 304-723-2528
Address: 204 Three Springs Drive, Suite A, Weirton, WV 26062
Map: click here
Last Updated:
October 9, 2013