Contributing Experts
Tina Marinaccio, MS, RD, CPT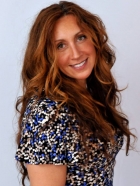 Visit:
Tina Marinaccio, owner of Health Dynamics LLC in Morristown, NJ, is a Registered Dietitian Nutritionist and Certified Personal Trainer. With 20 years experience as a motivational wellness speaker, expert in fitness and nutrition, and gourmand foodie, she provides corporate wellness workshops, individual and group counseling, personal training, and nourishing and distinctive cooking enlightenment. She is an adjunct professor in clinical nutrition and food sciences at Montclair State University, and mentors students from around the country.
Born into a cuisine-centered Italian family, Tina quickly developed a passion for food and nutrition. Before she had grown enough to reach the stovetop, she would ask her mom to pull up a stool so she could cook. At a young age, she went on to launch a unique macrobiotic and vegetarian catering business. Seeing the impact of restorative eating on the health of her clients fueled her passion to pursue with zeal both bachelor and master of science degrees in nutrition, with the goal of helping people improve quality of life through long-term therapeutic lifestyle changes.
Tina completed her undergraduate nutrition degree at Montclair State University and her Masters in clinical nutrition at New York University. She is an American Council on Exercise certified personal trainer and is certified in weight management from the American Dietetic Association. Her specialties include weight loss, culinary training, food writing/blogging, corporate wellness, integrative health, anti-inflammatory and Mediterranean diets, healthy eating on the go, and gut health.
Last Updated:
November 5, 2014