Contributing Experts
Timothy R. Ulbrich, Pharm.D.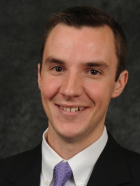 Visit:
Tim Ulbrich is the Director of Pharmacy Resident Education and Assistant Professor of Pharmacy Practice at Northeast Ohio Medical University. He graduated from Ohio Northern University and completed his residency in ambulatory/community care at The Ohio State University.
His responsibilities at NEOMED include on campus teaching, coordination of the residency teaching certificate program, and establishment of pharmacy residency programs in Northeast Ohio. His areas of expertise include OTC/Self-Care and Medication Therapy Management (MTM).
He is active in several local, state and national pharmacy organizations. He currently serves as a member of the Ohio Pharmacists Association (OPA) Disease State Management Task Force and a member of the OPA Board of Trustees.
Tim is the President and Founder of a company called PharmForward. PharmForward, LLC is working to partner with business owners to advance patient care in Northeast Ohio by providing medication therapy management (MTM) and wellness services.
Last Updated:
September 26, 2014