Tibbitts Family Pharmacy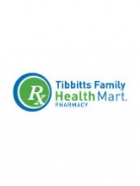 Visit:
Tibbitts Family Health Mart Pharmacy is locally owned and operated by Brett Tibbitts, Pharm D, RPh. Brett is originally from Hemet, California. Upon graduation from high school he moved to Utah to further his education. He attended Utah State University for one year prior to serving a LDS mission in Argentina. When Brett returned from his mission he met his wife Virginia. Shortly after being married they moved to Salt Lake City where he completed his Pre-pharmacy requirements at the University of Utah and then continued on to Winchester, Virginia where he graduated with his Doctor of Pharmacy degree from Shenandoah University Bernard J. Dunn School of Pharmacy in May of 2007.
After completing his degree, Brett and his family returned to Utah where they settled in the small community of South Weber. For the past several years, Brett has been working as manager at a local retail chain pharmacy. Feeling that he could provide more to his patients and to the profession of pharmacy, he ventured out and decided to open his own independent pharmacy.
Brett is married with three kids and still resides in South Weber, Utah. In his free time, he enjoys golfing, snowboarding, fishing, camping, and wake boarding.
Brett's goal at Tibbitts Family Health Mart Pharmacy is to provide many personalized services to its customers including minimal wait times, free delivery, competitive pricing, individualized medication counseling, vaccinations and immunizations. Tibbitts Family Health Mart Pharmacy will give you the fast service you want, the value you need, and a pharmacist you can trust. Tibbitts Family Pharmacy wants to make getting your prescriptions filled easy and convenient with good old fashion service you won't forget!
Phone Number: 801-771-0363
Address: 2940 North Church Street, Suite 201, Layton, UT 84040
Map: click here
Last Updated:
November 14, 2013