Texas Star Pharmacy - Parker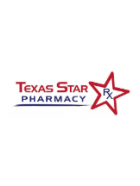 Visit:
Our names are Donna and Michael Barsky and we own Texas Star Pharmacy. We have lived in Plano for over 30 years and wanted to provide a service back to the community. We want to invite you to come and experience what a real pharmacy, with people that care, is like.
Texas Star Pharmacy is an innovative complete multi-service compounding pharmacy in Plano, Texas. We can fill any healthcare needs from the simplest to the more complex, from routine prescriptions to compounding pharmaceutical solutions for your needs, from wound care products to durable medical equipment, from orthopedic support wear to therapeutic compression garments.
Our staff is trained to set the standard in patient care and pride themselves in attention to detail, especially when you need hard to find or discontinued products. To determine the needs of our patients, a close triad relationship between the physician, the patient and the pharmacist is crucial. Our staff works closely with the physician and patient to find solutions to individual healthcare challenges.
In larger cities we rarely find anything more than quick stop markets on every corner that also sell prescriptions in the back. Many of these have lost the personal touch and caring that should come with service to our community. We also provide patient education, periodic health fairs that can screen for diabetes (with free blood glucose monitors for those who need), and cholesterolemia testing. If we don't have a product, we can probably find it.
As your neighborhood pharmacy, we strive to be your healthcare problem solvers. We want to be the solution to all your healthcare needs. At TexasStar we want to help you solve your medication nightmares, not only with competitive prices, but also with the type of service you won't find in many places. At TexasStar, we think of our patients as part of our own family, not just as a prescription to be filled.
If there is anything that you would like for us to carry, please, contact our pharmacy. We would be happy to help you.
People continually ask us, "How do you compete with all the large chain stores in town?"
The fact is, most people these days have prescription cards that manage their costs regardless of what pharmacy they frequent. The co-pay that is paid to one pharmacy will be the same at any pharmacy that one chooses to use. Therefore, it's nice to know that you can choose the type of service you want at any pharmacy and we're hoping that you like us well enough to give Texas Star Pharmacy a chance to serve you.
Phone Number: 972-519-8475
Address: 3033 West Parker Road, Suite 100, Plano, TX 75023
Map: click here
Last Updated:
August 5, 2013