Sutton Family Pharmacy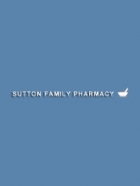 Visit:
Sutton Family Pharmacy is a neighborhood drugstore with a warm and friendly atmosphere the way pharmacy used to be. We provide fast and accurate service at competitive prices and our pharmacists are always here to give you confidential answers and/or advice regarding your prescription concerns. We accept Medicare, Medicaid, and most health insurance plans with co-pays being the same as other pharmacies.
We are a compounding pharmacy that works closely with physicians to customize medications to individual patients. Our compounds include Bio-Identical hormones for men and women, pediatric lollipops and gummies, anti-nausea creams, veterinary animal treats, shingles rub, hospice care and pain management products, and many more!
We have a Monthly Member Program available where the pharmacy staff work with patients to get all maintenance medications filled on the same day every month. This avoids weekly trips to the pharmacy and we will call you when they are ready to pick up for a friendly reminder. We also offer an Automatic Refill service with phone notification. For those bad weather days, parents with sick children, or patients having limited mobility we have a Drive Thru available.
Sutton Family Pharmacy has a wide array of gifts for birthdays, weddings or special occasions.
Come by and see us! Why drive anywhere else?
Phone Number: 706-852-1802
Address: 3957 Cleveland Highway, Unit A, Dalton, GA 30721
Map: click here
Last Updated:
October 9, 2013