Surrey Center Pharmacy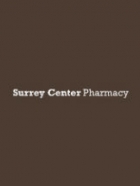 Visit:
The staff at Surrey Center Pharmacy has cared for generations of families over the years and takes pride in providing personal attention and consultation based on our customers' health care history.
Owner Earl Wright has been a licensed pharmacist since 1970 after graduating from The University of Georgia's School of Pharmacy. Earl has worked in West Augusta since 1971 and came to Surrey Center Pharmacy in 1979. Brenda Kirkland joined him in 1984 as a part-time pharmacist. Courtnee Russ joined the Surrey Center family in 1994. After completing her education at The University of Georgia she became a licensed Pharmacist in 2002 and joined the staff full time. Melissa Sidener and Leslie Chalker are both certified pharmacy technicians with prior experience in the health care industry. Our pharmacists are currently members of the Georgia Pharmacy Association and National Associations of community Pharmacists. Surrey Center Pharmacy people you have known and trusted with your family's health care needs for more than 30 years.
Phone Number: 706-738-4558
Address: 483 Highland Avenue, Augusta, GA 30909
Map: click here
Last Updated:
October 9, 2013