Steven's Pharmacy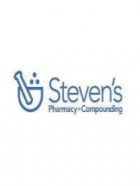 Visit:
Steven's Pharmacy is an independent, full-service, compounding pharmacy that has been operating since 1975. It's your source for all your pharmaceutical needs, offering both conventional and alternative medicines. We are dedicated to providing you the service, selection and competitive prices you deserve.
As a professional compounding pharmacy, we can provide medicines tailored to the patient's specific needs and prepared to the doctor's exact specifications.
We are located in the city of Costa Mesa, one of Southern California's most dynamic and rapidly growing coastal communities. In addition to our local community, we take pride in serving a national clientele. In the words of our owner and lead pharmacist, Charles T. Bonner, Rph., "A pharmacy should be more than a dispensary. At Steven's Pharmacy we consider ourselves a community partner, a resource for products and information, and a source for products designed to support maximum health."
Phone Number: 714-540-8911
Address: 1525 Mesa Verde Drive East, Costa Mesa, CA 92626
Map: click here
Last Updated:
August 5, 2013