Springfield Drug Store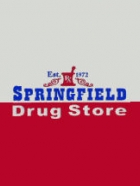 Visit:
BUILDING HEALTHCARE TRUST YOU CAN RELY ON SINCE 1972!
We're proud of our history of dedication to the idea that quality care means more than just prompt filling of prescriptions. To us, quality care means you get the prescriptions and medications you need, along with the personal care and attention you deserve. When you come to Springfield Drug Store, you'll be able to count on dependable care from knowledgeable pharmacists — ones that takes the time to get to know you and your unique health needs.
Our mission is to provide a better quality of service at the same or a better price than that of other pharmacies. To achieve this we offer a full-breadth of professional pharmacy services and customer care that literally goes the extra mile.
We offer:
Drive-thru
Most major insurances accepted: Express Scripts, Medco, Humana, and many more!!
Gifts Cards
Blood pressure screenings
Circle E Candles
Fleur de Lis jewelry
Phone Number: 225-294-5045
Address: 31696 LA Highway 22, Springfield, LA 70462
Map: click here
Last Updated:
October 17, 2013