Sixth Avenue Medical Pharmacy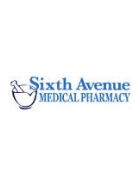 Visit:
We are a full service pharmacy and compounding center that has been serving Spokane since 1964.
We are a full service medical pharmacy, providing traditional retail prescriptions and custom compounded medications for you and your pets. We offer high quality supplements and over-the-counter products as well as an extensive array of medical supplies. Our mission is to provide superior customer service to our customers and deliver excellent products that meet their needs.
We have been meeting your pharmacy needs since 1964 with honest old fashioned service. As a crucial part of your health care team, we will work hard to provide the best care and service for you and your family. Pharmacists are one of the most accessible health care providers and we pride ourselves in providing many health and wellness services under one roof.
Phone Number: 509-455-9345
Address: 508 West 6th Avenue, Spokane, WA 99204
Map: click here
Last Updated:
October 10, 2013