Shaver Pharmacy and Compounding Center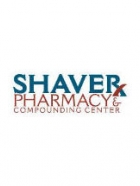 Visit:
Shaver Pharmacy and Compounding Center is locally owned and operated in Pocatello, Idaho. We invite you to stop in and let our professional staff assist you with all of your pharmacy needs.
Shaver Pharmacy specializes in custom compounded medications. Using the latest technologies in our compounding lab we work with you and your physician to customize medications specifically to your needs. In addition, shop our store and let our helpful staff assist you with aids for daily living, vitamins and nutrition, diabetic supplies, oxygen therapy, IV therapy, home medical products and more.
Shaver Pharmacy accepts all major insurance plans including Medicare and Medicaid and always offers free delivery. Let the professionals at Shaver Pharmacy help you live a longer, healthier, happier life.
Phone Number: 208-233-3341
Address: 235 South 4th Avenue, Pocatello, ID 83201
Map: click here
Last Updated:
November 6, 2013