Seven Lakes Prescription Shoppe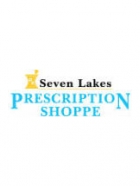 Visit:
1) We are a clinical compounding pharmacy. Our desire is to get to the root of your health related issue and tackle that, not just place a band-aid over the sore by using medication after medication.
2) We offer consultation services on many health related issues, including hormone replacement therapy, weight loss, adrenal fatigue, medication safety, etc.
3) We offer free delivery across Moore County Monday-Friday and we ship across the country.
4) We have a 5-10 minute wait on the majority of prescriptions.
5) We will call your doctor for you if there are any problems or if there is a cost saving opportunity available.
6) We offer friendly, efficient service and get to know our patients. We take the time to get to know you.
7) We treat you and your symptoms, not just your lab results.
8) Transferring your medication is easy, give us a call 910.673.7467 and we will do the rest.
Phone Number: 910-673-7467
Address: 120 MacDougall Drive, West End, NC 27376
Map: click here
Last Updated:
July 12, 2013