Save-Rite Drugs - Irvington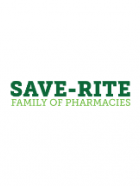 Visit:
Save-Rite Drugs was founded in 1973, taking over the location previously operated by Irvington Pharmacy. In 1981 current owner, Jonathan Van Lahr became involved with and eventually purchased Save-Rite. In 2005, his son, Gabe came on board and became an owner with Jonathan. It has had 3 locations since its opening, first on US Hwy 60 in the Houchens Shopping Center, adjacent to the well-known Irvington Dairy Cup. In 1985 it moved to the new Houchens Shopping Center, adjacent to Family Dollar. And finally in 2007 moved to its current location, a copper topped building located at 14020 E Hwy 60 in Irvington.
Save-Rite Drugs is truly a family owned independent pharmacy dedicated to serving the healthcare needs of Irvington and the surrounding areas of Breckenridge and Meade Counties. It operates a full-service independent retail pharmacy, offering prescription services, over the counter medications, medical supplies, and gifts.
We make it easy for you with our drive-thru service, we will have you on your way!
We offer free consultation with our pharmacists regarding your medication questions and concerns.
We are proud to be locally owned and live in our community!
Phone Number: 270-547-2855
Address: 14020 East Highway 60, Irvington, KY 40146
Map: click here
Last Updated:
August 30, 2013