Sam's Health Mart Pharmacy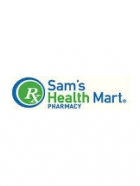 Visit:
Sam's Health Mart Pharmacies are full-service pharmacies that specialize in your health. We provide courteous service in a modern and inviting atmosphere and also give you conveniences for filling your prescriptions that make your life easier such as free delivery, free home delivery and drive up windows.
We employ pharmacists that are trained to give immunizations and perform medication reviews. Our staff can also help you with selecting a brace or support for an injury and guide you show you solutions for preventing falls.
Our billing specialists will file your claims not only for your prescription medications but also for your Medicare or Medicaid-covered nebulized breathing medications, diabetes testing supplies or home medical equipment.
And our use of pharmacy automation helps us fill your prescriptions quickly leaving more time for our pharmacists to step out from behind the counter to talk to you about your health care issues.
Plan acceptance – We accept most plans at the same co-pay as national chains.
Health Mart Brand Products – Quality over-the-counter health and wellness products just as effective as the national brands, for much less.
Service – Our pharmacists go above and beyond, striving to make a difference in the lives of our patients and their families.
Everyday convenience – We serve you quickly and efficiently, with no long waits to meet with a pharmacist.
So come see us for your prescription and health care needs. We think you'll be surprised at just how good a pharmacy can be!
Phone Number: 660-263-0909
Address: 300 North Morley Street, Moberly, MO 65270
Map: click here
Last Updated:
November 19, 2013