Saiff Drugs - Highland Park Pharmacy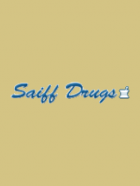 Visit:
For more than 45 years, Saiff Drugs pharmacy has done more than provide medications and health aides to its customers and clients in and around Highland Park, NJ – it has built caring relationships.
Superior personal service is what you will find at Saiff, along with a large inventory and diverse offerings of diabetic support resources, in-home mobility devices, wound and ostomy supplies, and prescription services.
Saiff Drugs and RPh-in-charge Vijay Maktal are committed to promoting and enhancing pharmaceutical care and wellness through patient communication / free BP and other seasonal screenings, and much more.
Call or drop in today and take advantage of our in-house Notary Public, a full line of our private label Good Neighbor Pharmacy products, FREE prescription deliveries and more. Begin building a relationship with a neighborhood drugstore that will see you through both the healthy times and the ailments.
Saiff Drugs' Products and Services Include:
Diabetic Services – supplies and resources
Rx refills for in-store pickup
FREE locally delivered prescriptions
Individualized compounding
Health resources
Canes, walkers and wheelchairs
Bathroom aids
Vitamins, natural supplements and analgesics
Wound care supplies
Ostomy supplies
24-hour emergency service available
Saiff Drugs is an authorized retailer of Jobst and Sigvaris compression hosiery.

Phone Number: 732-545-0687
Address: 325 Raritan Avenue, Highland Park, NJ 08904
Map: click here
Last Updated:
August 21, 2013