Rosebank Pharmacy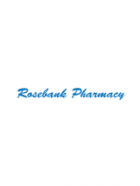 Visit:
Rosebank Pharmacy has been serving the Rosebank community since 1890. Paul Mattiola, the current owner, has owned the store for over 50 years and his daughter, Florence Levine, is currently the supervising pharmacist.
We are a family oriented store since Paul also employs his two nieces, Diana and Cheryl. Our other pharmacist, Wendy Maiello, started working in the store when she was 14. Paul has inspired many people to become pharmacists. Including his Granddaughter, Emilie, who is in her second year of pharmacy school, his nephew Charlie, and John, another relative who began working at the store as a teen.
Florence continues to run the store following in her father's footsteps. She has been a pharmacist for over 25 years working at her father's side. We provide a professional friendly atmosphere and take pride in saying we know most of our customers by name.
We don't make our customers wait long for a perception to be filled. Most prescriptions are filled within minutes, which is something you don't find in a chain store.
Phone Number: 718-727-0426
Address: 500 Tompkins Avenue, State Island, NY 10305
Map: click here
Last Updated:
August 26, 2013