River Pharmacy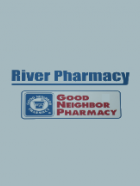 Visit:
River Pharmacy is a locally owned pharmacy which has been in business for over 32 years. Lou Ghiringhelli, pharmacist/owner, has been an active participant in the Elk Rapids scene serving on the DDA, Rotary, President of the Chamber of Commerce, and served on various other committees. He is married and has two children that have graduated from Elk Rapids High School and who have gone on to careers in pharmacy and hospitality management.
Our goal at River Pharmacy is to provide professional and educational services for our patients. Marge, an employee for 20 plus years, is knowledgeable in supplement and hormone therapy. Cari, began her 20 plus year career while she was in high school, has been educated in diabetic therapy and diabetic footwear. Lisa, an employee for 5 years, is our compounding technician. All three are certified pharmacy technicians.
River Pharmacy is part of the Good Neighbor Pharmacy (GNP) network. GNP is a co-operative of independent pharmacies, over 3700 stores in the United States, working together to bring a brand generic at a competitive price for the consumer. We are Medicare certified, so we can bill for most Medicare services. Most insurance plans are accepted and we do bill 90 day supplies if applicable. We also provide compounding services for our patients.
Phone Number: 231-264-8165
Address: 124 Ames Street, Elk Rapids, MI 49629
Map: click here
Last Updated:
August 12, 2013