Rice's Pharmacy & Gifts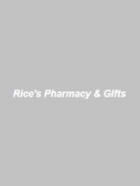 Visit:
Small, local, friendly pharmacy & gift shop. Our great staff is always willing to help with any of your needs. We offer Dr. Comfort shoes, diabetic supplies, DME supplies as well as having an amazing selection of unique gifts for the entire family.
We're proud of our history of dedication to the idea that quality care means more than just prompt filling of prescriptions. Rice's Pharmacy and Gifts was established in 1958 so, to us, quality care means you get the prescriptions and medications you need, along with the personal care and attention you deserve. When you come to our pharmacy, you'll be able to count on dependable care from a knowledgeable pharmacist - one that takes the time to get to know you and your unique health needs. Rice's outstanding pharmacists are committed to giving each and every customer thorough and personal consultations.
For over fifty years as a staple in the Corvallis community, Rice's Pharmacy and Gifts is still providing specialty and hard to find pharmaceutical products and services as well as wide variety of fun and unique gifts. In addition to our wide variety of products and services, Rice's Pharmacy also offers delivery service, for a small fee, to residential customers as far away as Lewisburg and Philomath.
Phone Number: 541-752-7760
Address: 910 Northwest Kings Boulevard, Corvallis, OR 97330
Map: click here
Last Updated:
November 14, 2013