Riccio Family Pharmacy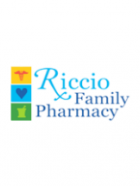 Visit:
Riccio Family Pharmacy proudly stocks all of your pharmacy-related needs, including vitamins; cold, allergy, stomach, and pain medications; first aid products; pediatric care items; diabetic test kits, strips, and supplies; and a wide variety of eye, skin, and foot care products.
We also stock a full line of braces and supports from Bell-Horn Orthopedics and various Home Healthcare products including walking aids (canes, walkers, crutches, and wheel chairs) cushioning aids, and bathroom safety devices.
With our Good Neighbor Pharmacy brand in conjunction with all other popular brand-name products, Riccio Family Pharmacy helps care for you and your medical needs the best way possible.
Need a product that we don't have in stock? Not a problem! Riccio Family Pharmacy can special order almost any product available and have it for you the next day – with free delivery!
For your convenience, Riccio Family Pharmacy also carries a variety of candy, snacks and Pepsi beverages.
Phone Number: 215-639-6680
Address: 2217 Bristol Pike Suite #2, Bensalem, PA 19020
Map: click here
Last Updated:
August 6, 2013