Contributing Experts
Rebecca Axline, LCSW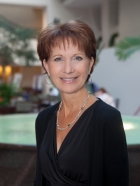 Visit:
Rebecca Axline, LCSW is Supervisor, Advanced Practice Social Worker at the Houston Methodist Neurological Institute.
Rebecca has over 30 years of clinical social work experience working in a variety of settings including medical centers, active duty military bases, VA centers, employee assistance, hospice care, and school districts. She has management experience in the areas of psychiatric care, employee assistance and customer service.
Her current role starting in 2006 has been the development of an outpatient Social Work program at Houston Methodist Neurological Institute. She continues to provide program development and clinical intervention with a primary focus of helping patients and family members cope with the stress of diagnosis and treatment of neurological disorders and illnesses. Her clinic roles include MDA/ALS and Nantz National Alzheimer Center.
Additionally, Rebecca provides teaching and mentorship to graduate Social Work students and clinical supervision guidance to LMSW social workers. She has been a speaker at informal and formal presentations to community groups, support groups, and continuing education attendees.
Last Updated:
September 18, 2013