Contributing Experts
Ralph de Vere White, MD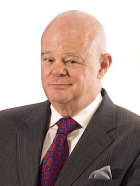 Visit:
Dr. de Vere White is investigating the genetic mistakes that give rise to prostate cancer, the biomolecular mechanisms that make some prostate cancers more virulent than others, and new methods of diagnosing and treating prostate cancer. Over the past decade, he has been the principal investigator on research grants totaling nearly $6 million.
Among his many honors and awards, Dr. de Vere White is a member of the Clinical Society of Genitourinary Surgeons. Surgeons are elected into this professional organization based on their outstanding contributions to urology. The highly selective society has only 25 members. Dr. de Vere White is also an elected member of the prestigious American Association of Genitourinary Surgeons. Dr. de Vere White has been named multiple times as one of "The Best Doctors in America."
Dr. de Vere White received his medical degree from Dublin University in Dublin, Ireland, and completed an internship and residencies in surgery and urology at St. Vincent's Hospital in Dublin and at Duke University Medical Center in Durham, N.C.
Last Updated:
July 5, 2013