Prescriptions Compounding & Pharmacy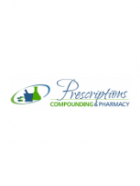 Visit:
Prescription's Compounding & Pharmacy is a licensed retail locally owned pharmacy in operation since July 1st, 2002.
The staff and owners share the passion for achieving positive therapeutic outcomes for patients with unique needs through the provision of specially formulated medications. We devote our talents to compounding medications and work diligently with every medical specialty group to meet distinctive needs.
Phone Number: 918-251-6655
Address: 511 South Aspen Avenue, Broken Arrow, OK 74012
Map: click here
Last Updated:
August 8, 2013