Powell's Bloomfield Pharmacy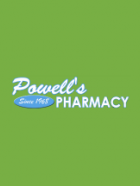 Visit:
If you're looking for a local pharmacy that puts customers ahead of sales and profits, look no further.
Millton P. Powell RPh opened Powell's Pharmacy in 1954 on Houston Avenue in Macon, Georgia. In 1968, he and James A. Harris RPh moved to our current location at Log Cabin and Bloomfield Road. A three minute drive from Eisenhower Parkway makes Powells convenient to most of Middle Georgia. We've been keeping the customer number #1 for nearly 60 years. We're more than a pharmacy, we're family! Our store has been offering caring and friendly service plus quality products for nearly 60 years. Pay us a visit to see why our store has become a household name in Macon, GA.
Phone Number: 855-820-6957
Address: 4839 Bloomfield Road, Macon, GA 31206
Map: click here
Last Updated:
August 2, 2013