Plaza Pharmacy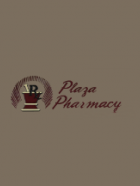 Visit:
Pharmacy Manager is Melissa Steger who is an SDSU grad and has 6 years of experience.
We have moved to our current location inside Ken's Superfair Foods Grocery Store in July of 2012.
We specialize in diabetic patient management through counseling on blood glucose testing machines and how to properly test and track one's diabetes What sets all of our pharmacy's apart:
Our Customer Service is second to no one. Our family friendly atmosphere and easy approachability is what sets us apart from many of our competitors. Here at our pharmacy's, the patient comes first. We encourage our patients to ask questions about their medications. We enjoy the interaction we have between our customers and genuinely care about their health and medications. We offer free delivery and mail outs to all of our customers.
Our compounding department at State Street Pharmacy is the only compounding pharmacy within 150 miles of Aberdeen. We specialize in pain management, hormone replacement therapy, and vet medications. We also make many other custom medications for specific patients that have specific needs. Compounding has always been apart of the pharmacy profession, and we are glad to keep it alive here in Aberdeen.
Phone Number: 605-225-6344
Address: 201 South Lloyd Street, Aberdeen, SD 57401
Map: click here
Last Updated:
August 8, 2013