Plain City Druggist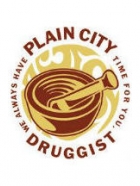 Visit:
Plain City Druggist is locally owned and operated by Joe and Robin Craft (both registered pharmacists). Our main priority is providing superior, personalized service that makes each patient feel cared for and respected. You are our neighbors, friends, and family. We are so glad to be part of the Plain City community.
We accept MOST insurance plans. Not sure if we accept yours? Ask us! We deliver to the Plain City area in the big white van with Joe's picture on the side. You can drop off and pick up your prescriptions conveniently from your car. Joe or our other pharmacists will come right to the window to speak with you if you have a question. We can also grab over-the-counter items for you if you let us know what you need when you pull up. Get your flu or pneumonia shots here. Joe and our pharmacy students are also able to administer hepatitis A and B, tetanus, diphtheria, and pertussis vaccines for adults. Ask Joe if you have questions about a particular vaccine. If you need prescriptions or help after the pharmacy is closed, call the pager at 614-240-8421. A pharmacist will call you back within the hour. If you do not hear from someone in an hour, please page us again.
We can give you information to help you select the plan that's right for you. We'll also work with your doctor to select medications that keep you within your spending limits and out of the "donut hole." This program will allow you to get all of your prescriptions filled at the same time each month. We know you like to see us, but honestly, wouldn't it be nice to only stop in once a month? A pharmacist or a pharmacy student will sit down with you and review your medications.
Custom Flavoring for most liquid medications. You can always speak to a pharmacist in person about your medications in our counseling area. A Large Selection of Gift Items, including our famous "2 for $1.00" Cards. Find out all the latest news and information about the drugstore and Plain City on our blog.
Phone Number: 614-873-0880
Address: 480 South Jefferson Avenue, Plain City, OH 43064
Map: click here
Last Updated:
November 6, 2013