Pioneer Health Compounding Pharmacy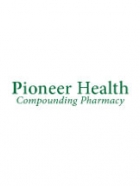 Visit:
Gene Gresh, Ron Sylvain and Peter Casinghino started Pioneer Health Compounding Pharmacy in January 2002. With several years of compounding experience, they decided that customized medicine offers patients many more options since countless therapeutic possibilities exist. They have customized medications for people who have pain, allergies, or complex medical problems. They also compound for children and pets. Along with compounding, they are now focused on consulting with healthcare practitioners in bio-identical hormone replacement therapy and pain management. Since nutrition is the foundation for health they now offer specialized nutrition programs in the areas of digestive health, detoxification, and weight loss.
Pioneer Health Compounding Pharmacy exists to promote wellness for our customers and patients through the professional development of lifestyle strategies, proactive nutritional counseling, and customized medical solutions. By integrating education, communication, consultation (with healthcare practitioners) and innovative science-based information, our goal is to create a relationship-based environment in which we can deliver positive measurable health outcomes.
Phone Number: 860-979-0089
Address: 520 Hartford Turnpike D, Vernon, CT 06066
Map: click here
Last Updated:
November 13, 2013