Pharm-A-Save Pharmacy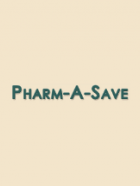 Visit:
First established as Mitchell's Pharmacy, Pharm-A-Save purchased the business in 1996 and is proud to be a part of the Granite Falls Community. Our commitment to our customers reaches beyond the walls of our building and we are very happy to have the opportunity to serve all the families of the greater Granite Falls area.
Located in downtown Granite Falls, Pharm-A-Save provides the local community with fully accredited pharmacy services. We operate our facility with a relaxed, professional atmosphere not usual for typical full-service pharmacies while offering fair and competitive pricing.
We also feature unique gifts and hard-to-find health items. Our friendly staff is always available to help with any personal health need you may have!
Phone Number: 360-691-7778
Address: 207 East Stanley Street, Suite A, Granite Falls, WA 98252
Map: click here
Last Updated:
August 30, 2013