PGPA Pharmacy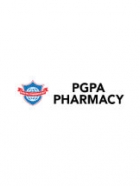 Visit:
PGPA Pharmacy (Pharmacy Group Practice Associates), an independently owned pharmacy, servicing your community needs.
At PGPA Pharmacy, our goal is to make professional contact with the patient much more than a business transaction. PGPA's pharmacists and technicians all share the common mission of health promotion and education.
From our retail pharmacy to our 340B services, we strive to provide optimal patient care through a wide range of economically innovative services. Contact PGPA Pharmacy today to determine how we can serve you or your organization.
Phone Number: 517-381-7472
Address: 3544 Meridian Crossings Drive, Okemos, MI 48864
Map: click here
Last Updated:
November 13, 2013