Paul Nunzio De Santis, Pharm.D.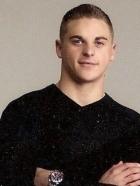 Dr. Paul Nunzio De Santis (Pharm.D.) has extensive pharmaceutical research experience that encompasses the entire drug development process, from in-vitro research in HPV and cervical cancer at the University of New Mexico School of Medicine, the preclinical toxicology of antisense oligonucleotides at Isis Pharmaceuticals, and finally clinical research in nephrology at the Albany Medical Center, in collaboration with Albany School of Pharmacy and College of Medicine.
His research expertise is centered on the field of pharmacogenomics and oncology, where he has worked as a research fellow for Pfizer Global Research & Development to understand the genetic etiologies and molecular mechanisms of hormone dependent tumorigenesis in breast and prostate cancer. Specifically, he elucidated the "Differential Inhibitory Activity of TMS & Resveratrol on 5 Polymorphic Variants of CYP1B1 in Prostate Cancer" (2007-2009).
The success of that project led to his selection to carry out a classical translational research program, where he developed a novel model to evaluate "The Over-expression of CYP1E1 in human breast cancer cells and cellular toxicity by ethanol-induced oxidative stress" (2009-2010). His research was used to help answer the important clinical question of why the over-expression of CYP2E1 translated into poor outcomes in breast cancer.
Dr. De Santis now applies his knowledge and skills in the BioPharma industry as an Equity Research Analyst providing independent and objective analysis for investors on breakthrough therapies undergoing clinical development in the United States and Europe.
Last Updated:
November 19, 2014