Pardeeville Hometown Pharmacy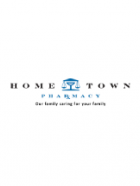 Visit:
Pardeeville pharmacy has been an active business and supporter in their community dating back to at least the 1930's. The Olson family owned the local pharmacy for approximately 45 years and then Stephen Woxland and his wife Kathleen owned the pharmacy from 1978 until Steve's recent retirement in 2009.
Steve and Kathy were very active in their community and held leadership roles in the Alliance Club and other business organizations. They contributed to a wide variety of clubs and organizations including school and church events, cub scouts, the holiday fair, and much more.
In March of 2009, Hometown Pharmacy brought the Pardeeville pharmacy-formerly Village Drug, under their wing. Hometown Pharmacy now offers 12 convenient retail pharmacy locations to serve all of our customers. There has always been a loyal following of customers to the Pardeeville pharmacy and continues to be under the new ownership of Hometown Pharmacy, for which we are very grateful.
It is still a goal to be very connected in the Pardeeville and surrounding communities. Hometown Pharmacy seeks to become part of the community they support. They strive to not only know their customers by name, but also who their families are and what their interests are. We strive to make strong connections with each customer we serve.
Hometown Pharmacy is excited to offer a full range of services to the customers of the Pardeeville pharmacy such as a full range of Durable Medical Equipment that we custom fit and deliver, oxygen services, long-term care services and packaging, immunizations and more. Please stop in and see Pharmacist and Store Manager Kate Hillyer and her team.
At Pardeeville Hometown Pharmacy, you are more than a customer, you are part of our family.
Phone Number: 608-429-2325
Address: 135 North Main Street, Pardeeville, WI 53954
Map: click here
Last Updated:
August 15, 2013