OC Pharmacy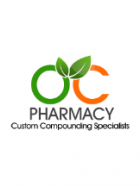 Visit:
Let's take advantage of the advancements in technology and healthcare that have provided us with the many benefits such as prescription medications and healthcare products. In the pharmacy we find satisfaction in alleviating sickness, reducing disease, and providing comfort to patients through medical equipment and helping physicians provide medication to their patients through compounding. For faster recovery and attaining your life goals, technological and healthcare developments in pharmacy have brought us a higher level of care – and we extend it to you when you become one of our patients at OC Pharmacy.
OC Pharmacy provides you more than the relief you are searching for. We provide the total package for our clients. Our pharmacists are working closely to come up with the best solution for you or your loved one. We will be there for you from identifying and assessing your needs, conditions, and other special considerations to making sure those needs are met adequately, accurately, and with a personal touch. Apart from patients handing us their prescriptions, we personally contact your physician to discuss things that will be helpful for you. With our products and services we will then be able to work on your personalized treatment plan.
OC Pharmacy's products and services are all tailored to you personally and standardized within reason as the regulations of the State of California require. We want to give you – our patient – the best, so we stop at nothing to accomplish this for you.
Phone Number: 949-429-5326
Address: 31654 Rancho Viejo Road, Suite N, San Juan Capistrano, CA 92675
Map: click here
Last Updated:
August 15, 2013