Contributing Experts
NYU Langone Medical Center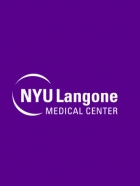 Visit:
NYU Langone Medical Center, a world-class, patient-centered, integrated, academic medical center, is one of the nation's premier centers for excellence in clinical care, biomedical research and medical education.
Located in the heart of Manhattan, NYU Langone is composed of four hospitals – Tisch Hospital, its flagship acute care facility; Rusk Rehabilitation; the Hospital for Joint Diseases, one of only five hospitals in the nation dedicated to orthopaedics and rheumatology; and Hassenfeld Pediatric Center, a comprehensive pediatric hospital supporting a full array of children's health services across the medical center – plus the NYU School of Medicine, which since 1841 has trained thousands of physicians and scientists who have helped to shape the course of medical history.
The medical center's tri-fold mission to serve, teach and discover is achieved 365 days a year through the seamless integration of a culture devoted to excellence in patient care, education and research.
Last Updated:
March 11, 2014