Contributing Experts
Nima Amjadi, MD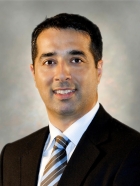 Visit:
Dr. Nima Amjadi is the Chief of Cardiology at St. David's South Austin Medical Center.
Dr. Amjadi specializes in all aspects of cardiovascular disease. While he maintains a busy office-based practice, he has an emphasis in Interventional Cardiology and performs procedures such as cardiac catheterization, angioplasty, stent placement, intravascular ultrasound, peripheral/carotid angiography and interventions, as well as percutaneous closure of Atrial Septal Defect and Patent Foramen Ovale.
Dr. Amjadi earned his medical degree from St. George's University School of Medicine. He completed his Internship and Residency at St. Joseph's Hospital & Medical Center (University of Arizona) in Phoenix, AZ. He received his specialty training at Kaiser Permanente Medical Center/University of California - Los Angeles, where he was a fellow in Cardiovascular Disease. Dr. Amjadi also completed an additional fellowship in Interventional Cardiology and Peripheral Vascular Disease at Harbor UCLA Medical Center in Los Angeles, CA.
Dr. Amjadi is triple board certified in Internal Medicine, Cardiology, and Interventional Cardiology by the American Board of Internal Medicine. He is a fellow of the American College of Cardiology, a member of the Texas Medical Association, and the Travis County Medical Society. Dr. Amjadi is fluent in English and Farsi.
Last Updated:
May 31, 2013