Newhard Pharmacy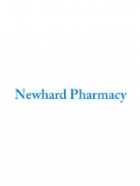 Visit:
Newhard Pharmacy has established an outstanding reputation for quality products and services. Our reputation is superior due to our dedicated employees. Every employee's actions, every day, with every customer is what makes our pharmacy different from the rest. We take pride in all we do, however small, and always put our best foot forward.
Newhard Pharmacy's Mission is to provide our customers with the highest quality products and services at competitive prices. We are working everyday to give you our very best.
A family owned Good Neighbor Pharmacy that treats you like a good neighbor. We've been here since 1895 working to heal you better, with a caring, professional staff.
Some of our products include Retail Store, Durable Medical Equipment Shop, Full Line of Home Health Care Products, Diabetic Shoes & Accessories, Walkers, Wheelchairs, Canes, Cpap Machines & Accessories, Walk in Vaccination Clinic, Gift Shop, Long Term Care Services, Online Refills, Emergency Services 24/7, and Free Local Delivery.
Phone Number: 610-262-6721
Address: 1001 Main Street, Northamptom, PA 18067
Map: click here
Last Updated:
October 9, 2013