New Glarus Hometown Pharmacy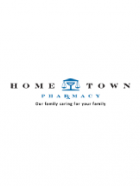 Visit:
New Glarus Pharmacy, formerly named Roberts Drug Store, has been one of the cornerstones of the New Glarus business community for over 60 years. Those 60 years have produced many changes in the New Glarus business mix as well as many changes in the medical field including pharmacy. However, one thing remained constant through those 60 years—the commitment of New Glarus Pharmacy to the health and well being of its customers. We also offer a large selection of gifts.
Pharmacy staff members are there for you whenever you need them, in any emergency you can reach them–24 hours a day, 7 days a week, 365 days a year. In addition to the pharmacy's commitment to you, commitments, both personal and monetary, have been made to the Village of New Glarus.
Owners and employees have served on the Chamber of Commerce, The Bank of New Glarus board of directors, volunteer committees of the New Glarus Village Board, school board, every festival board and all clubs and originations in the community. New Glarus Pharmacy has also given monetary contributions to the Village of New Glarus and its organizations: high school scholarships worth over $12,000, donations to the EMS, Fire Department, Chamber of Commerce, festivals and all organizations in the community large and small.
New Glarus Pharmacy remains committed to New Glarus, the surrounding area, and its people. Thank you for your support!
Phone Number: 608-527-2517
Address: 1101 Highway 69 Unit#7, New Glarus, WI 53574
Map: click here
Last Updated:
August 2, 2013