Contributing Experts
Nabil Dib, MD, MSc, FACC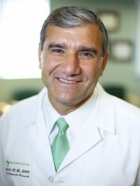 Visit:
Nabil Dib, M.D., MSc, FACC, has been conducting research and developing the newest investigational treatments for advanced cardiovascular disease for over 15 years. He is internationally known and respected for his research and work regarding the use of adult stem cells to restore the health of patients suffering from severe heart disease.
Dr. Dib is the Director of Cardiovascular Research at Mercy Gilbert & Chandler Regional Medical Centers, members of the Dignity Health network. He is also an Associate Professor of Medicine and Director of Clinical Cardiovascular Cell Therapy at the University of California San Diego; Director of Cardiovascular and Stem Cell Consultants (CSCC) and Heart Sciences Center; President and Founder of the International Society for Cardiovascular Translational Research (ISCTR); Founder and Editor-in-Chief of the Journal of Cardiovascular Translational Research (JCTR); and Co-Founder and CEO of Translational Research Institute (TRI).
Dr. Dib completed his Interventional Cardiology Fellowship Program at Harvard Medical School, Beth-Israel-Deaconess Medical Center in Boston. He also completed an additional year in Investigational Devices at Harvard Medical School, and continued his education at Harvard School of Public Health, where he obtained a degree in Master of Science in Epidemiology and Research, concentrated on clinical trial design and effectiveness.
Additionally, Dr. Dib completed his General Cardiology fellowship at the University of Wisconsin, Milwaukee Clinical Campus at Sinai Samaritan Medical Center. His residency was in Internal Medicine at Tufts University School of Medicine and he completed his internship at Boston University. Dr. Dib received his Medical Degree from Damascus University School of Medicine in Damascus, Syria.
Dr. Dib travels the world speaking at cardiology events, conducting research and clinic trials and working to the improve quality of life and survival for patients with cardiovascular disease.
Last Updated:
September 24, 2013