Mountain View Pharmacy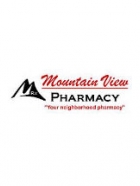 Visit:
Our focus is on personalized customer service. The emphasis is on taking care of each patient in a way that makes them feel like a member of the family. Mountain View Pharmacy is located in the Mountain View Medical Center just across the street from Lakeview Hospital in Bountiful, Utah. The pharmacy has a convenient drive-up window and offers delivery service. The staff is always available and willing to help in anyway feasible.
Mountain View Pharmacy offers prompt and courteous service, competitive pricing and accepts most insurance plans. The pharmacy offers automatic refills of maintenance medications and will call you when your prescription is ready for pick-up. Talk to a member of the pharmacy about this convenient, free service.
Mountain View Pharmacy also offers compression hosiery, diabetic supplies and bathroom safety products. If you need an item we do not carry, don't worry, we will order it in for you at no additional cost and often have it for you the very next day.
Phone Number: 801-295-3439
Address: 425 South Medical Drive, Bountiful, UT 84010
Map: click here
Last Updated:
December 23, 2013