Milltown Pharmacy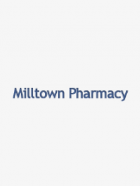 Visit:
Milltown Pharmacy is a full-service independently owned neighborhood pharmacy. Owner/Pharmacist-in-charge, Alison Henry, has been answering the call of her customers since 1985. She and her staff pharmacists, Sheryl and Alan, have combined retail experience of over 60 years. Our staff is ready to meet your pharmacy needs in a helpful and efficient manner. They are prepared to counsel and advise whenever necessary.
We carry durable medical equipment such as canes, walkers, wheelchairs, bath safety equipment, nebulizers, wound care supplies and diabetic socks and testing supplies. Many of these items can be submitted to Medicare Part B and/or your insurance for reimbursement when accompanied by a prescription. Our over-the-counter medication selection will more than satisfy your needs. We also have an extensive selection of vitamins and supplements.
Our Gift Department includes a wide variety of gifts, decorative accessories, and Yankee Candles. We have a broad collection of Designer Greetings Cards to suit every occasion and are always 50% off. We also carry Russell Stover and Madelaine's Chocolates and Candies.
Local delivery service is available Monday through Friday from 1 pm - 3 pm, if needed.
Phone Number: 732-828-0080
Address: 21 North Main Street, Milltown, NJ 08850
Map: click here
Last Updated:
August 26, 2013