Mills Family Pharmacy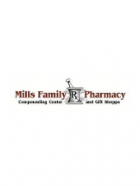 Visit:
Mills Family Pharmacy is family owned and operated by Dr. Chad and Rebecca Mills. They have 3 children and have called Murfreesboro home since 2001. Both Chad and Rebecca earned a Pharm.D. degree from the University of Tennessee Memphis College of Pharmacy in 2000.
The number one goal of our pharmacy is to provide you, our patients, with the best possible medical care. We strive to treat each patient as a person, with the compassion, dignity and respect they deserve. We believe in the triad of care and will work directly with each patient's physician to help optimize patient outcomes, as well as save you valuable time and money.
Phone Number: 615-895-1641
Address: 2994 South Church Street, Murfreesboro, TN 37127
Map: click here
Last Updated:
August 26, 2013