Miller's Pharmacy - West Henrietta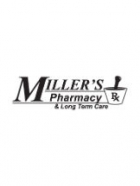 Visit:
Miller's Pharmacy is dedicated to offering our patients the unique experience of making your medical health a true concern. You will not just be a number like you are at many chain pharmacies. We are committed to actively managing your medication and preventing adverse drug reactions, drug interactions and allergy conflicts. Please stop in to see us and ask one of our pharmacists to speak to you.
The Health Care environment is extremely dynamic and growing increasingly complex. Providers are now required to do more and third party reimbursements are declining. The combination of these trends presents a growing challenge for the industry.
Millers Pharmacy & Long Term Care understands these issues and provides a pharmacy solution that goes beyond simply supplying medications for patients.
Many residents of Upstate New York's long term care facilities (such as skilled nursing, assisted living, juvenile care, and group homes for specially-abled adults) already benefit from Miller's specialized care and attention to service and detail. This level of individual attention goes beyond what a national organization is able to deliver.
Phone Number: 585-889-3510
Address: 201 Scottsville-West Henrietta Road, West Henrietta, NY 14586
Map: click here
Last Updated:
October 9, 2013