Milford Street Pharmacy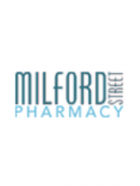 Visit:
Milford Street Pharmacy is a locally owned, independent pharmacy. We pride ourselves on quick, accurate, friendly service. Come see us for your prescription and over the counter needs.
Count on Riverside and Milford Street Pharmacies for your family's prescriptions needs. A locally owned, family operated pharmacy we're proud to have served the Salisbury area for 40 years. With our special blend of cutting edge technology and old fashioned personal service, you can rest assured that your family's health is in good hands with us.
Riverside and Milford Street Pharmacies are proud to offer prompt, courteous, and FREE local prescription delivery to your home or office in the Salisbury area. Arrangements may be made for monthly deliveries to those living a bit further away using our MEDICINE-ON-TIME system.
Phone Number: 410-860-0700
Address: 106 Milford Street, Salisbury, MD 21804
Map: click here
Last Updated:
September 4, 2013