Middleport Family Health Center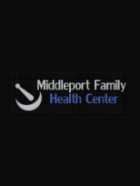 Visit:
Middleport Family Health Center is a full service pharmacy located on Route 31 in Middleport, NY.
Our goal is to improve your health outcomes by helping you to get the most out of your medicines and understand the goals of therapy. We believe in a pharmacists' lifelong commitment of learning and incorporate this into our daily workflow.
We commonly have pharmacy students from the University at Buffalo as well as D'Youville College come and gain hands on experience at our pharmacy. We also have a post-graduate residency program that is affiliated with the University at Buffalo. This program allows a recently graduated pharmacist to gain further clinical training and experience through our pharmacy.
Phone Number: 716-735-3261
Address: 81 Rochester Road, Middleport, NY 14105
Map: click here
Last Updated:
May 14, 2013