Medoz Pharmacy of Osceola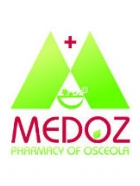 Visit:
Medoz is a friendly and service oriented professional pharmacy with one-stop convenience.Our state-of-the-art clinical facility and registered pharmacists are available to meet all your clinical specialty needs.
When you think of pharmacy, you think "a place to get medication" and in many cases you think hassle, waiting and expense. Forget the traditional pharmacy as you know it. One visit to Medoz Pharmacy of Osceola, and you'll quickly realize it's unlike any other pharmacy you've encountered. From the inviting interior to our extraordinary customer service and broad selection of health and beauty products and services, to specialized services such as immunizations, customized medications, surgical supplies, we provide a unique pharmacy and wellness service that is unlike anything ever experienced in the Osceola.
Phone Number: 407-374-2550
Address: 720 West Oak Street, Suite 114, Kissimmee, FL 34741
Map: click here
Last Updated:
November 14, 2013