The Medicine Shoppe Pharmacy - Benson, AZ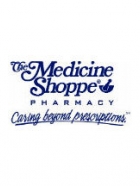 Visit:
Our Medicine Shoppe® Pharmacy opened in 1998 in Benson.
We are your hometown pharmacy located at 795 W Fourth St in Benson, AZ. Call us at (520) 586-1299 for free Drug Bug delivery in the Benson area. Check out the discussion tab for some of our specialized services. Thanks for allowing us to serve you.
Phone Number: 520-586-1299
Address: 795 West 4th Street, Benson, AZ 85602
Map: click here
Last Updated:
July 3, 2013